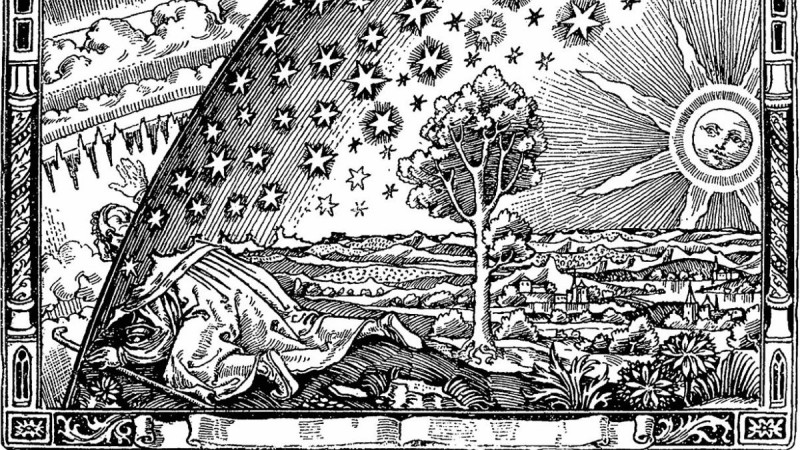 Sometimes we ask the wrong questions, and answer them with bad answers. One particularly bad question is: "what was there before the Big-Bang?" There are many others, but this one requires a little mental gymnastics in order to get used to modern ideas of time and understand what the consequences are.
"What was there before the Big-Bang" may have looked like a good question before Einstein (if anyone then had a clear idea of a universe expanding from a very dense original state, which they didn't), but the revolution of Relativity in our concepts of time and space made it scientifically absurd. The word you have to remove from the question is "before". Substitute "beyond", and we have something to talk about, but "before" is just absurd in this context. Let me explain.
In a Newtonian, 19th century scientific framework, time and space are fundamental: physical phenomena, and the universe in general, happen in time and space, but time and space aren't physical phenomena themselves. Einstein showed that time and space are not only relative, but are physical expressions of geometry. They are even in a way consequences of matter and energy. In other words, time and space are properties of the universe. They are of the universe, and don't make sense outside of it (whatever "outside" could mean when talking about the universe).
As a consequence, time and space as we perceive them are not necessarily useful concepts "everywhere" (and I use that word with scare quotes to express an idea of a place that is more general than what we mean in everyday speech).
The Big-Bang is such a "place": what scientists mean by Big-Bang is that early region in the universe where everything was so densely packed that our current knowledge of physics breaks down. It is where our ignorance begins, where taking our usual concepts of time and space seriously would lead to absurdities and infinities. The only certainty about what's beyond the Big-Bang is that we need new science to understand and describe it.
Now if you care about metaphysical questions of origins, that leads to a serious problem: if there is no useful concept of time beyond the Big-Bang, do we still have a useful concept of causation?
Hume's concept of causation cannot be kept in this context because it is based on time: the cause must be prior to the effect. If "prior" is meaningless, we are reduced to correlation, which can easily be reversed without contradictions.
The only causation that can be used here is the logical concept of necessary causes: if x must exist for y to exist, and y exists, then x exists. The first premise however is a tricky one…
Let's take a favorite argument from theists, the Kalam cosmological argument. It starts with "everything that begins to exist has a cause". There are too many problems in this statement to count, but the word we need to focus on is "begins"… The argument continues with "the universe began to exist". We can stop right there: no, as far as we know, the universe didn't "begin" to exist because that implies a meaningful notion of time, that we don't have near the supposed origin of the universe. This argument simply doesn't work.
I'll leave you with a final puzzling thought about time and causality. Quantum physics introduced a funny notion that is that the results of some experiments cannot be predicted, and that we can only predict the probabilities of the possible outcomes. Without going into too much details, this doesn't necessarily eliminate determinism at a fundamental level, but it does confirm that with our limited perception of time, the future is not fixed. One interpretation in particular, the Many Worlds Interpretation, sees us navigating in an infinitely branching network of possibilities. When an experiment is performed, other outcomes than the one measured may seem like they didn't actualize, but according to Many Worlds, they did, it's just that this is not where we are. Now here comes the crazy bit: in this interpretation, everything is still fundamentally reversible in time, and the branching that happens about the future also happens for the past. The consequence is that the past may be just as undetermined as the future is.
Have a nice day.